Become a CertiProf Affiliate

Earn 30% Commission
The CertiProf Affiliate Program helps trainers, content creators, and bloggers to monetize their traffic, recommending international professional certifications in different areas of knowledge. Affiliates use simple link-building tools to direct their audience to their referrals and earn from purchases.
We are constantly updating our portfolio with the most demanded certifications in the global job market to help professionals from any country continue advancing in their careers.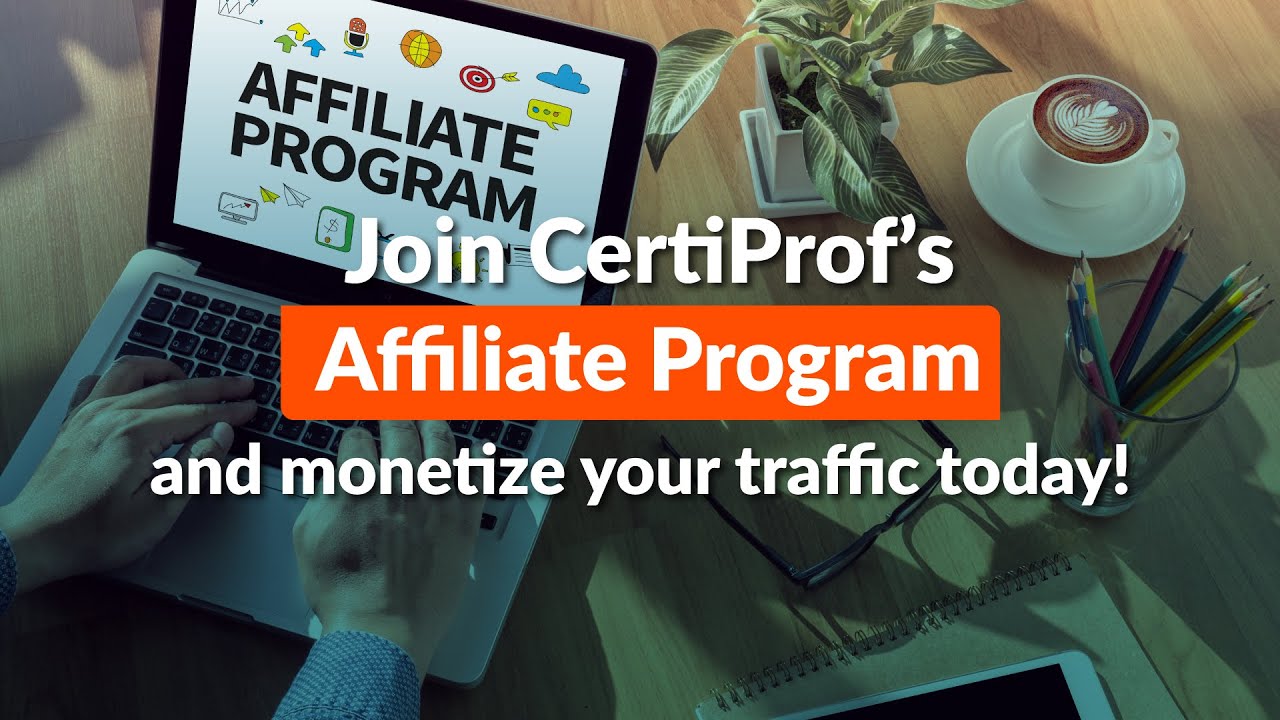 Log in to your ShareASale account, or create your account if you are not a member; the ShareASale team will review your profile, this process takes between 5 and 7 business days.
Join our ambassadors who are earning with the CertiProf Affiliate Program. Learn more about how to sign up as an Affiliate for ShareASale.

Once your profile is accepted, sign in to your ShareASale account. On the main dashboard, go to Merchants, click on Search for Merchant, look up for CertiProf, and Join the Program. You'll have all the tools you need to get started, including your affiliate link.

Share our certifications with your audience and maximize your earnings with a 30% commission on each sale you make!
Frequently Asked Questions
Who is CertiProf?
CertiProf® is a certifying entity founded in the United States in 2015, currently located in Sunrise, Florida. We focus on creating knowledge in the community; for this reason, we have certifications recognized worldwide in 4 languages: Spanish, English, Portuguese, and German. We have also awarded more than 1,000,000 digital badges and 800,000 certificates in 88 countries and more than 1,100 partners in 31 countries.
How does the CertiProf affiliate program work?
CertiProf's affiliates earn revenue for every new customer who buys a certification. Refer any customer to purchase on our website. You will get a commission amount calculated based on the Commission structure: 30% per final sale. Therefore, the Commission amount will depend on order value and not include extra fees (tax, shipping cost, etc.).
When Do I Get Paid?
Payments are sent out on the 20th of every month for the previous month's commissions. Commissions that an affiliate earns in January, for example, are eligible for payment on February 20th. If the 20th falls on a weekend, payments are sent out on the following Monday.
If affiliates have any questions about this, please contact the support team at shareasale@shareasale.com
Who can participate in the CertiProf affiliate program?
The CertiProf Affiliate Program is Free! Anyone with at least one proven channel and audience aligned with the brand can apply for the program. Suppose you have a blog, Facebook groups, Pinterest, Instagram, or Twitter followers, or email newsletters in which you can share our certifications and promote them. In that case, you can be part of the program. All affiliates must create an account through our affiliate platform.
How Do I Get Paid?
Affiliates can choose to get paid by check, the minimum payment threshold is $50. They can raise this to a higher payment trigger amount if they like. Affiliates can also be paid by ACH direct deposit or wire transfer. Learn more.
How do I know my progress?
You can follow up on your progress in our Affiliate Platform to check your sales, traffic, account balance and see how your banners are performing.
30 days of cookies to keep receiving commission per new customer (The tracking gap serves as the duration of time between a click on your Affiliate's link and the conversion on the website).
Recommend Certifications. Earn Commissions.
If you already have an account created on ShareASale, join our program!